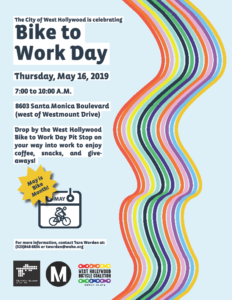 May is National Bike Month and the City of West Hollywood is celebrating the benefits of bicycling by encouraging community members to leave their cars at home and hop on a bicycle to get to work or to grab a bite to eat across town. On Bike to Work Day, Thursday, May 16, the City will host a "WeHo Bike Hub" from 7:00 to 10:00 a.m. at 8603 Santa Monica Boulevard (just west of Westmount Drive). The Bike Hub will be a festive spot for cyclists to gather, hydrate, and refuel. Please stop by!
---
In addition, L.A.'s Mid City West Community Council will be hosting a pit stop at the corner of Willoughby Ave. and Vista St. from 7:30–9:30 a.m. Get the latest updates on the process for evaluating the proposed Willoughby and Vista/Gardner Neighborhood Greenway, and enjoy refreshments and giveaways!
---
For the entire month of May, there will be bicycle-related events all around Los Angeles County, including group rides, workshops and community-hosted events. In addition to the WeHo Bike-to-Work Day event, there are numerous other pit stops across the county.